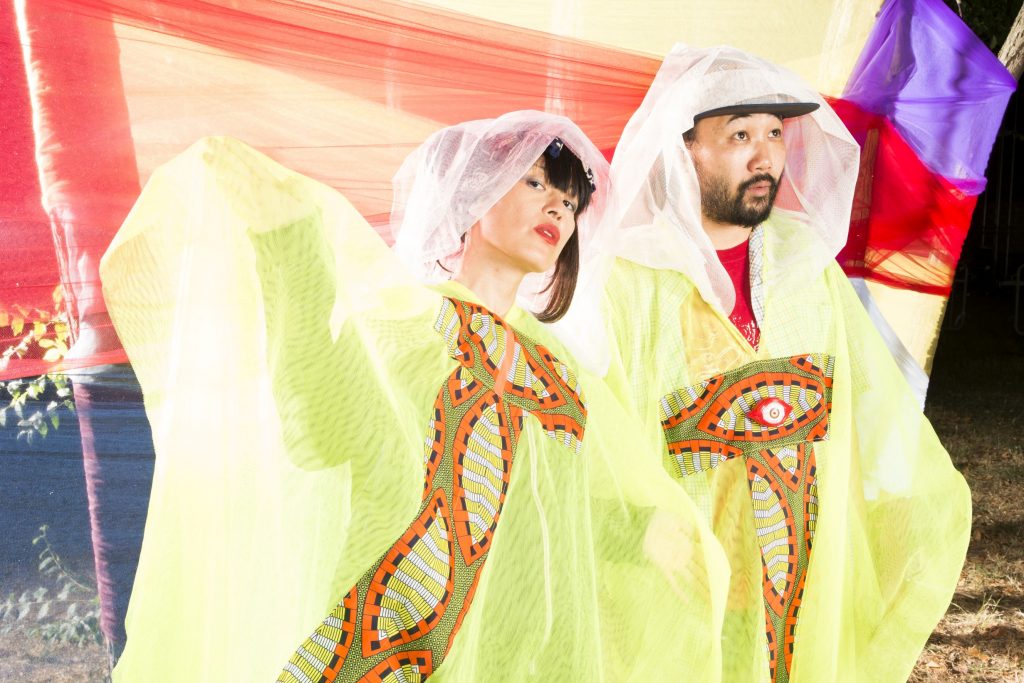 WaqWaq Kingdom bietet eine unendliche Bandbreite an stilistischen Abenteuern, die Grenzen ziehen, zwischen traditionellem Japan und zeitgenössischer Elektronik, zwischen jamaikanischem Dancehall und 8-Bit-Techno, zwischen afrikanischer Polyrhythmik und experimenteller Musik.
Shigeru Ishihara aka DJ Scotch Egg – ist ein unverwechselbarer Alien, der seit über einem Jahrzehnt die Dance-Musik-Galaxie umkreist, strahlend unberechenbare Solo-Platten veröffentlicht und als Mitglied der britischen Post-Rock-Band Seefeel auftritt. Sänger und Texter Kiki Hitomi ist ein ehemaliges Mitglied von King Midas Sound und Mitbegründerin des legendären japanischen Dubstep-Noise-Duos Dokkebi Q. Beharrlichkeit und Selbstvertrauen sind gemeinsame Themen von WaqWaq Kingdom, und die Musik von ihrer EP Dokkoisho spiegelt diese Entschlossenheit und innere Stärke wider.
WaqWaq Kingdom's endless range of stylistic adventures sees them draw lines between traditional Japanese and contemporary electronic, between Jamaican dancehall and 8-bit techno, between African polyrhythms and experimental music, with plenty more helping to colour a powerful, vibrant palette.
Shigeru Ishihara aka DJ Scotch Egg – has been a distinctive alien orbiting the dance music galaxy for over a decade, releasing radiantly unpredictable solo records and performing as a member of British post-rock band Seefeel. Vocalist & lyricist Kiki Hitomi is formerly a member of King Midas Sound (along with The Bug and Roger Robinson), and co-founded iconic Japanese dubstep-noise duo Dokkebi Q. Perseverance and self-belief are common themes for WaqWaq Kingdom, and the music of Dokkoisho echoes this strain of determination and inner strength.